Quality Assurance Framework
MediaCo operate in accordance with ISO 9001 quality standards. Below is a chart detailing departmental workflow, responsible person/s and quality checks which are not exhaustive. Internal QC processes are recorded on our (MIS) Management Information System, internal action forms which form part of our Quality Manual.
The principals of our Quality Assurance Framework is based on continued improvement and development of employees, processes controls, non-compliances, identification of trends and non throughout each stage of the production process.
Non-compliances and corrective actions are recorded on a CAR form BM-C-07 of the QMS. An example completed CAR is enclosed.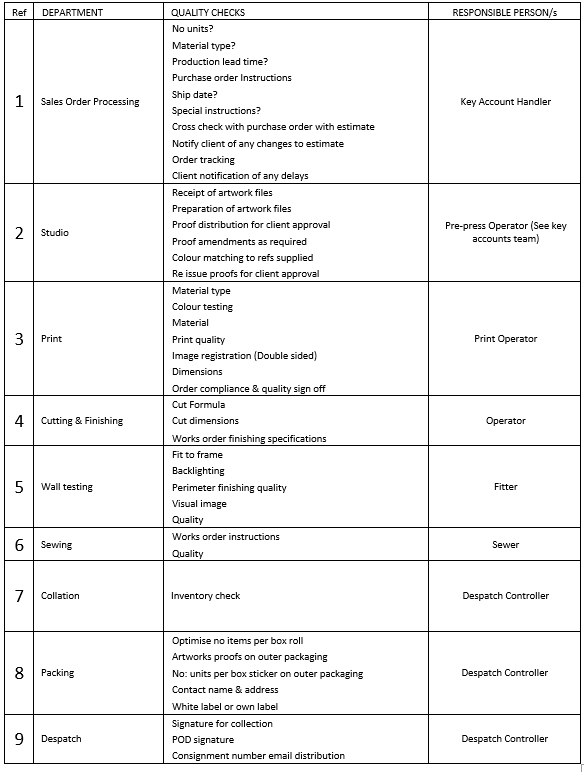 Work is completed in accordance with work instructions in each department 1 to 9. Prior to leaving each zone the operator will check compliance of all items produced against the works order and authorise progression of approved items to the next department using QC form 01. All forms are filed for future reference in accordance with our Quality Management System.
All employees are encouraged to reject any item/s which do not meet the minimum quality standard. At this point the employee will raise a compete non-conformance form (REDO) and return the item to the source department where corrective action is taken and recorded on the MIS.
The key account representative and production management monitor progression of all orders to ensure on time delivery. Where delays occur will notify the client of any potential delays or seek extension of the original delivery date and time.
Receiving zones will not accept responsibility for any orders where form QC 01 is not correctly signed and engage line management to take corrective action.
Production Tracking & Visibility
Production meetings are held twice daily to determine progression and status of all client orders. The senior person on duty will attend the meetings and report on status and on time completion of all orders on the schedule.
Customer Services are notified of any orders which may be at risk or confirmed delay. Meetings are scheduled for 10am and 1600hrs daily.
The account handler will notify customers via email and then telephone of any delays immediately known and seek assistance or agree appropriate corrective action.