MEDIACO AND BEMATRIX
COMBINE TO CREATE A MARKET LEADING PARTNERSHIP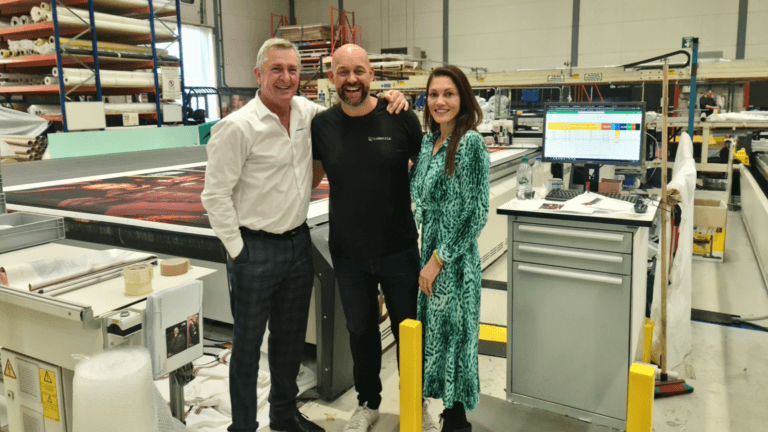 Antony Burton, Managing Director of beMatrix UK, says, "as a leading modular display system provider, beMatrix partners work with the most advanced UK graphics producers who are able to offer beMatrix users the most innovative and sustainable solutions." 
Stephen Arthur, Managing Director of MediaCo Group commented, "over the past 25 years we have focused on developing a display graphics, manufacturing centre of excellence, supported by the world's most advanced, sustainable print and finishing technologies. As an experienced beMatrix producer, over the past 5 years, we have worked hard to understand the onsite installation and technical challenges of beMatrix users and when requested, extended technical and 24-hr service support to ensure right first-time installation. It is through our collaboration we are working to extend to all approved beMatrix users, access to the most up-to-date, sustainable consumables and innovative print solutions".
As the UK's only 5m wide dye-sublimation printer, we are able to produce seamless fabric graphics up to 5m wide by almost any length enabling super large graphics to be installed over multiple frames, providing easy positioning for cut outs, digital screens and door locations, removing complications relating to image registration, tension whilst reducing installation time.  
Full colour fabrics can be folded, removing concerns about image creasing, reducing packaging and distribution costs.
We are also pleased to promote the use of amazing, eye-catching neon inks for front or backlit graphics on fabric or rigid materials, and cost-effective production of 3D images on acrylic, an unrivalled range of flooring solutions which include full colour sublimated 'Carpet' 2.0m (w) > 20m length, 'Easifloor, temporary flooring, UV printed, 3.0m (w) > 20m length, and Permafloor, permanent flooring, UV printed, 3.0m (w) > 15m length
For more information on any technical aspects of graphics production, or, to receive your free bePartner display pack, email bepartner@mediaco.co.uk.
Hena Sadler, MediaCo dedicated bePartner specialist commented, "I look forward to discussing all aspects of dedicated dynamic collaboration and sharing new products news and technical information".