MediaCo takes delivery of UK's first swissQprint Kudu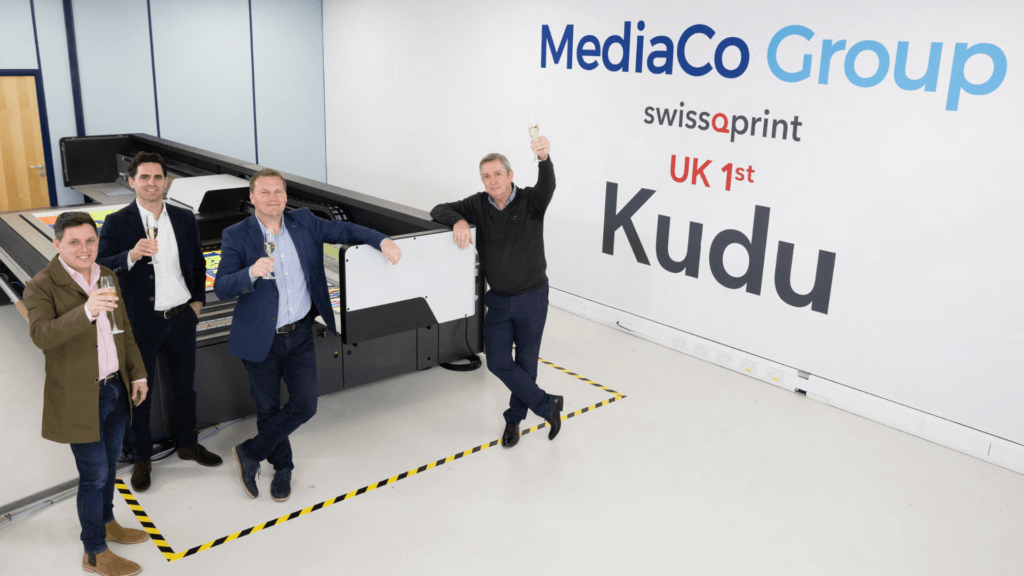 Large format print, display and graphics manufacturer MediaCo Group has taken delivery of the UK's first swissQprint Kudu at its state-of-the-art manufacturing site in Trafford Park, Manchester.
The 3.2×2 metre true flatbed Kudu combines high volume production with precision and 10 colour channels print flexibility. Three rows of print heads deliver a print resolution of 1350 dpi and an output of up to 304 square metres per hour.
→ Delivering on all fronts
While productivity and quality were key to MediaCo's decision, the power consumption of the swissQprint Kudu flatbed printer and top-in-class energy efficiency were also fundamental. swissQprint LED systems are all certified to be highly energy efficient, ensuring owners benefit from low operating costs and conserve valuable resources.
MediaCo selected the Kudu after an extensive review, specifying their machine with 10 colour channels including white, varnish and neon yellow and pink together with a CMYKLcLm ink setup. In addition, the roll to roll and dual roll options mean that films, banner, mesh and other roll stock up to 180 kg, are easily handled, as are boards and sheet materials.
→ Flexibility, creativity & sustainability combined
Stephen Arthur, Managing Director at MediaCo Group, said: "swissQprint's reputation for quality is second to none. The flexibility, productivity and energy efficiency offered by the Kudu made it the perfect fit in support of our commitment to deliver innovation as part of our net zero, carbon reduction plan."
MediaCo's team is excited about the possibilities the Kudu's extensive colour options, from the ability to print 2 pt text sizes to the opportunity to add texture with up to five layers of print, alongside gloss, satin or matt spot clear varnishes.
"Installing the UK's first Kudu is another first for MediaCo and I have no doubt the Kudu will quickly become the go to solution for outstanding and innovative displays," added Arthur.
→ beMatrix partner
As the approved beMatrix UK print partner, MediaCo will now showcase the Kudu's latest creative and sustainable print as an integral part of the beMatrix display system for the exhibition, retail and live events sectors.
Arthur said: "Outstanding print quality, application of neon inks, and amazing 3D images on acrylic are just some of the innovative options we can now provide for the beMatrix system and will help revolutionise both the impact and sustainability of display graphics."
→ Providing a turnkey solution
Ian Maxfield, Sales Manager at swissQprint UK is delighted that MediaCo is installing the UK's first Kudu: "It will be fascinating to see the print solutions the business provides for customers with its new machine."
Over the past 20 years MediaCo has built a team of dedicated professionals providing advice and guidance on image and project management from concept to delivery. The Kudu will form a key part of its production site in Manchester as the business focuses on offering a turnkey fulfilment service for innovative concepts for live events, exhibitions, in-store displays, product launches, interior decoration, brand promotion and much more.